INDIE ROCKERS THE LONG AFTERNOON REVEAL TRACK LIST, IMMINENT RELEASE OF NEW ALBUM, "SIGNIFYING NOTHING"
March 3, 2008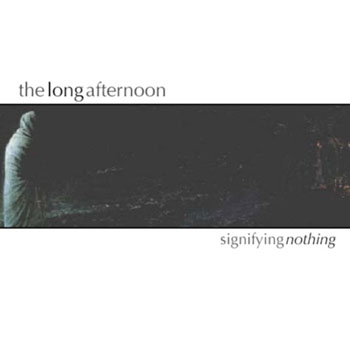 STATE COLLEGE, Pa. – Indie rockers The Long Afternoon have announced via their official Web site the track listing for their second studio album, "Signifying Nothing."
The 16-song album will be released April 20 on the band's Problematic Audio label, although fans who preorder the album will receive copies ahead of the official release date.
The announcement made at www.thelongafternoon.com includes the new album's final track listing, the cover art and a link to a free download of the album's first single, "Elinor Murphy."
The track listing for "Signifying Nothing" is:
1. Elinor Murphy
2. Building
3. Goodbye to All That
4. Using Dream
5. Never Tell
6. She Fell
7. Signifying Nothing
8. Shift
9. Sermon
10. That's Just the Way It Happened
11. Yr Happy Girl
12. Intent
13. Blacklight District
14. Spencer Patrol
15. How Did I Get So Far From Where I Should Have Been
16. Bother
The album's brooding cover art features a detail of "Conscience: Judas," a painting by itinerant Russian artist Nikolaj Ge, whose paintings of New Testament subjects provoked controversy in their day, and were sometimes forbidden by authorities for blasphemy.
First single "Elinor Murphy" is a punky, guitar-driven rocker with vaguely psychedelic touches about a girl, her television and their relationship. It's available as a free download at www.thelongafternoon.com/audio/ElinorMurphy.mp3
Visitors to the band's Web site can also pre-order the album.
On this album, as on 2006's "The Luxury Problem," The Long Afternoon comprises guitarist/vocalist Eston Martz, bassist Jeff Edmunds, and drummer Greg Elliott.
###
EDITORS: For more information, artwork, or access to download a promotional copy of Signifying Nothing online, contact [email protected].