the long afternoon finalizes new album "regression," sets august 16 release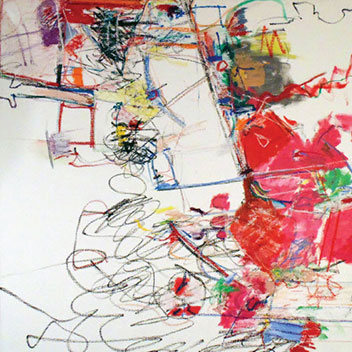 Enigmatic indie rock band The Long Afternoon has announced that work on its newest album is complete, and has shared the cover art.
The new album, entitled Regression, will be released by Problematic Audio Recordings on August 16, 2016. It contains 10 songs:
Autoresponder
Lowest Common
Let's Go Crash
The Miller Song
The Year of the Cat
Don't Tell Me You Don't Have the Time
Just the Sun
Promises of the Golden Dawn
See You Around
Divagenda
The album will be available via iTunes, Amazon, GooglePlay, and the rest of the usual digital distribution services. A limited number of physical copies also will be available via Amazon.com and directly from The Long Afternoon.
All of the songs are original compositions save "The Year of the Cat," a radically reworked cover of the title track from Al Stewart's 1976 album, which reached #8 on the North American singles charts. The track is the first cover version The Long Afternoon has recorded in the studio.
The band's previous album, An Index of Maladjustments, came out in 2011.
About The Long Afternoon
Cryptic indie rock practitioners The Long Afternoon began their activities in Pittsburgh in 1985 and selected to base operations in State College, Pennsylvania in 1987. The organization pursues a strategy of deliberate obscurity, opting not to participate in conventional rock and roll career-building activities and eschewing traditional notions of success entirely, leaving their ultimate ambitions and intent unknown to any but the group's inner circle. The Long Afternoon embarked on a new recording strategy in 2005. The organization's first album, "The Luxury Problem," came out in 2006 to enthusiastic reviews in The Big Takeover and High Times. Their second album, "Signifying Nothing", arrived in 2009 and was named one of the 10 best indie albums of the year by A Future in Noise. The group's third album, 2011's "An Index of Maladjustments", added additional guitar muscle and also contained "The Chameleonaires," a single that, while typically ambiguous, was nonetheless adopted as an anthem of sorts by Occupy Wall Street protestors. As is their wont, the Long Afternoon neither encouraged nor discouraged this use of their statement, preferring to encourage individuals to reach their own conclusions.
Submit e-mail to get periodic updates about The Long Afternoon.