Hot on the heels of Farrah Fawcett's passing I heard about the death of a beloved musical hero to millions around the globe, Sky "Sunlight" Saxon of the Seeds.  Think of groups like The Standells, The Chocolate Watchband, The Music Machine, and even that first Love record and you'll have a pretty reasonable idea of the general vein the Seeds mined.
He later had a hit on his own with the song "Sky Pilot," which used to be featured on K-Tel albums.  It was OK, but not as good as the Seeds' stuff.
Here's how he looked recently:
Not bad for a real survivor.  And here's a pic from his heyday: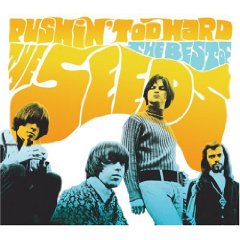 He was pretty out there — even by rock and roll standards — but he remained active and performed up until a few days before he died.  You'd probably recognize the big hits "Pushin' Too Hard" and "Can't Seem to Make You Mine," the latter of which has been covered by numerous groups including Yo La Tengo and more than one band I played in over the years. But I was always partial to "Up In Her Room," a 14+ minute epic about sex and drugs that just seemed to epitomize everything I dug about the 60s punk scene.
Of course, Saxon's passing has been completely overshadowed not just by Fawcett's death, but now by that of purported "King of Pop" Michael Jackson.  A pity.  But it seems like Saxon had himself a pretty good ride. Of those three, there's no doubt whom I'll mourn most.
RIP!